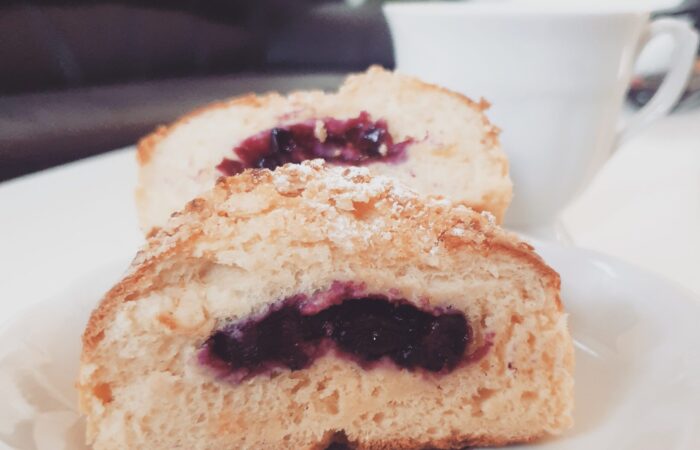 Składniki:
Zaczyn
120 ml ciepłego mleka
1 łyżeczka cukru
40-50 g świeżych drożdży
Ciasto
500 g mąki
100 g roztopionego masła
2 jajka
1 żółtko
50 g drobnego cukru
Nadzienie
400 g mrożonych jagód
odrobina mąki ziemniaczanej
odrobina cukru
Kruszonka
łyżki mąki
4 łyżki cukru
2 łyżki masła
Drożdżówki z jagodami
Chociaż sezon na jagody już za nami, zapasy zrobione i zamrażalnik pęka w szwach… Dlatego postanowiłam popracować z ciastem drożdżowym, które od zawsze lubiłam jeść, ale niekoniecznie robić… Jeśli ktoś z Was też nie jest przekonany, wypróbujcie przepis poniżej. Polecam!
Wykonanie:
Zaczyn
Mieszamy całość tak, aby składniki się rozpuściły. Odstawiamy na 15 minut do wyrośnięcia.
Ciasto drożdżowe
Do misy miksera przesiewamy mąkę pszenną. Dodajemy rozczyn, letnie roztopione masło, jajka + żółtko i na końcu cukier. Całość zagniatamy na gładką masę do momentu aż ciasto samo odchodzi od dłoni (robię to mikserem planetarnym przez ok. 10 min). Na koniec podsypujemy ciasto odrobinę mąką i odstawiamy na godzinę w ciepłe miejsce, przykrywamy ściereczką. Ciasto musi podwoić swoją objętość. Gdy już to nastąpi dzielimy ciasto na 10 części. Rozpłaszczmy ciasto na dłoni  i dodajemy jagodowe nadzienie. Sklejamy boki i formujemy drożdżówkę. Układamy na blaszce wyłożonej papierem do pieczenia i smarujemy wierzch jajkiem. Całość oprószamy kruszonką. Pieczemy w 180 stopniach przez ok 20-25 min (w zależności od piekarnika). Po upieczeniu posypujemy cukrem pudrem lub lukrem.
Nadzienie
Zamrożone jagody posypujemy odrobiną cukru i mąką ziemniaczaną. Dokładnie mieszamy.
Kruszonka
Łączymy składniki i rozcieramy w palcach.
Ciasto jest uniwersalne, można z niego wykonać drożdżówki, rogaliki, bułeczki czy struclę.