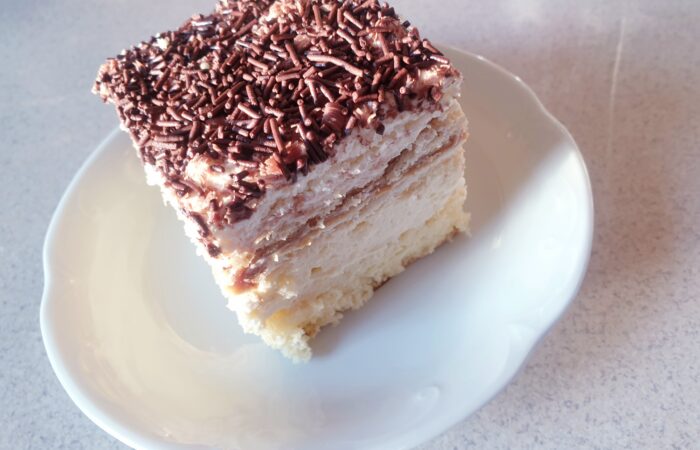 Składniki:
Biszkopt jasny
6 jajek
1 szklanka cukru (250 ml)
3/4 szklanki mąki tortowej
1/4 szklanki mąki ziemniaczanej
1 łyżeczka proszku do pieczenia
Masa budyniowa
2,5 szklanki mleka
1/2 szklanki cukru
3-4 żółtka
3/4 szklanki mąki
250 g margaryny lub masła
Masa śmietanowa
1/2 l śmietanki 36%
2 śmietan-fixy
opcjonalnie cukier puder do smaku
Dodatkowo
1 paczka krakersów
1 paczka herbatników
puszka masy kajmakowej
pół szklanki soku pomarańczowego
czekolada / posypka czekoladowa
Ciasto Balowe
Ciasto Balowe to przekładaniec, który już zapewne znacie, powiedziałabym, że to pierwowzór popularnego ciasta 3 Bit, ale w wersji pieczonej. To ciasto to istna mieszanka smaków – polecam!
Wykonanie:
Biszkopt jasny
Jajka ubić z cukrem na jasną, puszystą masę. Wsypać przesiane mąki z proszkiem do pieczenia, i delikatnie wmieszać w masę. Przelać do formy wyłożonej papierem do pieczenia o wymiarach 25×36 cm. Piec około 20-30 min w temp. 180 st. Odstawić do przestudzenia. Po przestudzeniu nasączyć sokiem pomarańczowym.
Masa budyniowa
W szklance mleka rozpuścić mąkę z cukrem i żółtkami. Pozostałe mleko zagotować. Do gotującego się mleka, wlać rozrobiony płyn, mieszać do zgęstnienia. Po przestudzeniu, utrzeć z miękkim masłem.
Masa śmietanowa
Mocno schłodzoną śmietanę 36% ubić na sztywną masę, dodać śmietanfixy i dobrze wymieszać. Posypać startą czekoladą lub posypką do ciast.
Składanie ciasta:
Jasny biszkopt (nasączyć sokiem pomarańczowym)
Masa budyniowa
Warstwa herbatników
Kajmak
Warstwa krakersów
Masa śmietanowa
Czekolada / posypka