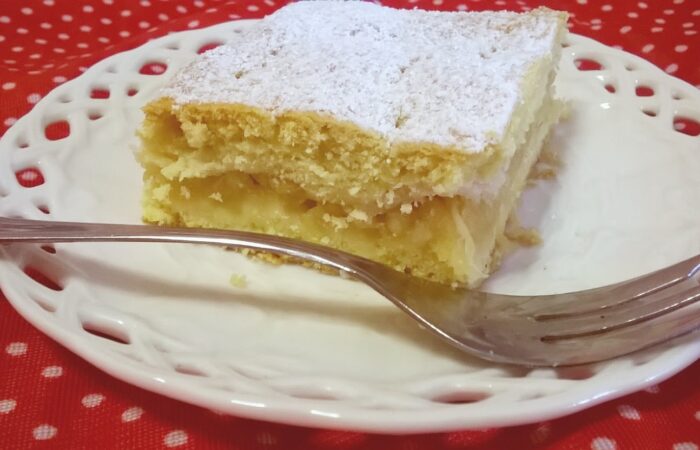 Składniki:
Składniki (średnica tortownicy 26 cm)
2 kopiaste szklanki mąki pszennej
1/2 szklanki cukru
1 jajko
100 g zimnego masła
1 opakowanie i 2 łyżki cukru waniliowego
2 łyżeczki proszku do pieczenia
2-3 łyżki kwaśnej śmietany
3 łyżki bułki tartej
ok. 1-5 - 2 kg jabłek
łyżeczka cynamonu
Szarlotka tradycyjna
Czy szarlotka jest symbolem jesieni? Na pewno tak. Piękna złota jesień kojarzy się nie tylko ze spadającymi liśćmi czy dojrzewającymi jabłkami, zważając jednak na to, że w Polsce jabłka dostaniemy o każdej porze roku, można powiedzieć, że jest to ciasto uniwersalne na każdą okazje. Przepis wypróbowany, prosty i bez zbędnych dodatków. Spróbujcie sami.
Wykonanie:
Mąkę łączymy z cukrem, proszkiem do pieczenia, szczyptą soli. Dodajemy zimne masło i siekamy na kruszonkę. Dodajemy jajko i śmietanę i szybko zagniatamy ciasto. Ciasto schładzamy co najmniej  1 godzinę. Połowę ciasta wałkujemy i przekładamy do formy wysmarowanej masłem i wysypanej mąką. Nakłuwamy widelcem. Posypujemy bułką tartą po całej powierzchni.
Jabłka ścieramy na tarce o grubych oczkach. Jabłka można podsmażyć jednak nie jest to konieczne. Dodajemy pozostałe składniki i dokładnie mieszamy. Wystudzone jabłka wykładamy na spód ciasta. Jabłka posypujemy pozostałą bułką tartą.  Górę przykrywamy pozostałym rozwałkowanym ciastem. Ciasto dziurkujemy widelcem. Szarlotkę pieczemy ok. 40 minut, temp. 200 stopni. Podajemy posypaną cukrem pudrem.