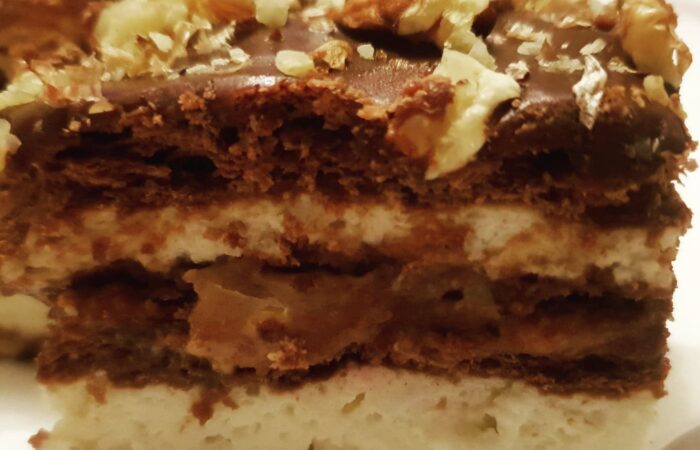 Składniki:
Dodatkowe
64 szt. herbatników (kakaowe, maślane)
Poncz do nasączania ciastek, czyli 1 szklanka wody i sok z ½ pomarańczy
1 czekolada rozpuszczona w kąpieli wodnej (opcjonalnie)
460 g kajmaku (cała puszka)
1 słoik dżemu z czarnej porzeczki
3 garście pokrojonych orzechów włoskich
Masa serowa
1 kg twarogu z wiaderka (np. Piątnica)
5 łyżek żelatyny rozpuszczonej w 100 ml wody
1 ½ łyżeczki cukru waniliowego
3 ½ łyżki cukru pudru
250 ml śmietany 36% (ubitej)
Polewa czekoladowa
150 g czekolady (1 ½ tabliczki)
75 ml śmietanki 36 %
1 łyżka miodu
Sernikowy Maxi King
Sernikowy Maxi King to ciasto bez pieczenia przeplatane warstwami na wzór popularnego batonika. Łatwe w przygotowaniu, smaczne i ładnie się prezentujące. Idealne na imprezy, na niedzielny stół czy nawet święta.
Wykonanie:
Wszystkie składniki na masę serową umieszczam w misce i mieszam.
Mogę przystąpić do składania ciasta.
Na dnie blaszki wyłożonej papierem do pieczenia układam 16 ciastek (4 x 4, jeśli macie trochę większą blaszkę, nic się nie stanie, dopasujcie ciastka, a ciasto będzie po prostu troszkę niższe).
Ciastka skrapiam 1/3 ponczu. Na ciastka wylewam rozpuszczoną czekoladę (opcjonalnie). Na czekoladę (lub ciastka) wylewam połowę masy serowej, a na masie serowej układam znowu ciastka (4 x 4). Na ciastkach rozprowadzam delikatnie kajmak i dżem (jeśli wybierzecie ten wariant). Kolejna warstwa to znowu ciastka, które skrapiam 1/3 ponczu, a na ciastka przychodzi druga połowa masy serowej i ponownie ciastka, które skrapiam pozostałym ponczem.
Ciasto wstawiam do lodówki do zastygnięcia (około 2 godzin).
Następnie przygotowuję polewę na ciasto.
Śmietankę zagotowuję, ściągam z ognia, dodaję połamaną czekoladę i miód. Odstawiam na chwilę, aż czekolada się rozpuści i mieszam do uzyskania jednolitej masy.
Czekoladę wylewam na ciasto, wyrównuję i posypuję orzeszkami. Ciasto ponownie wstawiam do lodówki na 2 godziny.
Najlepiej kroić gorącym nożem.
Smacznego! 🙂