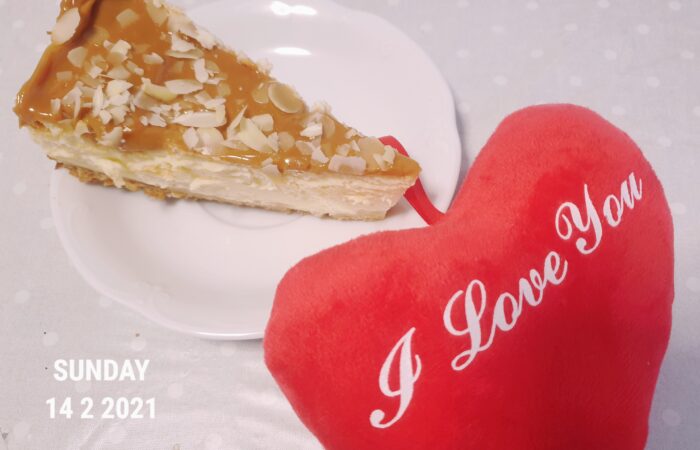 Składniki:
Ciasteczkowy spód
200 g pokruszonych maślanych herbatników
100 g roztopionego masła
Masa serowa
1 kg sera w wiaderku (użyłam President)
4 jajka
2 łyżki mąki ziemniacznej
200 g białej czekolady (użyłam Milkę)
3/4 szklanki cukru
16 g cukru waniliowego
100 ml śmietanki kremówki 36%
400 g kajmaku
Sernik z białą czekoladą i karmelem
W Walentynki nie może zabraknąć tego, co naprawdę kochamy – sernik, biała czekolada, karmel to Nasze smaki, właśnie dziś zapraszam Was na ten delikatny i kremowy serniczek, bo jak to mówią przez żołądek do serca…
Wykonanie:
Ciasteczko spód
Pokruszone dokładnie ciasteczka wymieszać z masłem. Wylepić nimi spód tortownicy o średnicy 26 cm, ugnieść, zapiec około 10 minut w temperaturze 190 stopni, schłodzić.
Masa serowa
Ser utrzeć z cukrem i cukrem waniliowym. Do masy dodać mąkę ziemniaczaną, zmiksować dokładnie. Następnie dodajemy śmietanę kremówkę (nie ubitą), i znów chwilkę miksujemy, dodajemy po jednym jaju, ucieramy. Czekoladę rozpuszczamy w kąpieli wodnej, lekko ją schładzamy (ma być lekko ciepła i wciąż płynna), dodajemy do niej 2 łyżki masy serowej ( w ten sposób ją hartujemy i nie zrobią nam się grudki po dodaniu do sera), następnie przekładamy masę czekoladową do sera i miksujemy. Masę wykładamy na ciasteczkowy spód, wyrównujemy powierzchnię. Pieczemy od 40-60 minut w temperaturze 160 stopni (sernik ma być ścięty, a nie upieczony). Studzimy przy uchylonych drzwiczkach piekarnika przez 60 minut, potem wyjmujemy na blat, kiedy ciasto uzyska temperaturę pokojową, wkładamy na parę godzin do lodówki. Kiedy sernik będzie już dobrze schłodzony, smarujemy go karmelem i wygładzamy powierzchnię, ponownie schładzamy parę godzin w lodówce.