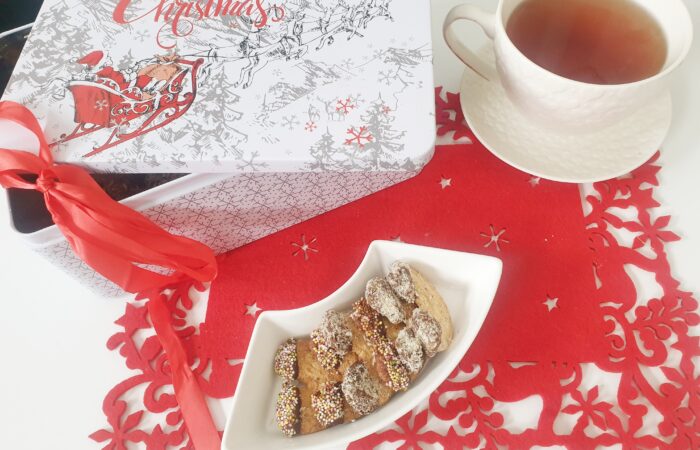 Składniki:
Ciasto
200 g mąki pszennej
100 g mielonych orzechów włoskich
3/4 szklanki cukru pudru
170 g masła (temperatura pokojowa)
szczypta soli
3 łyżeczki ekstraktu waniliowego (opcjonalnie)
Rogaliki orzechowe – ciasteczka
Tradycyjne ciasteczka pieczone na Boże Narodzenie. Są to jedne z tych wypieków, które może zrobić każdy i zawsze się udają, nawet jeśli ktoś nie posiada genu cukiernika. Wystarczy kilka podstawowych składników, 10 minut wyrabiania ciasta i 30 minut na pieczenie. Polecam!
Wykonanie:
Z podanych składników zarobić ciasto na gładką masę. Schłodzić w lodówce przez około 10 min. Odrywać niewielkie kulki i formować z nich rogala (najlepiej robić to na blacie). Ciasteczka układamy w odstępach na blaszce wyłożonej papierem do pieczenia. Wstawiamy do nagrzanego piekarnika do 180-190 stopni i pieczemy ok 13 minut, do momentu zarumienienia. Po ostudzeniu rogaliki zanurzamy w rozpuszczonej czekoladzie i obsypujemy wiórkami kokosowymi czy innymi ozdobami cukierniczymi.