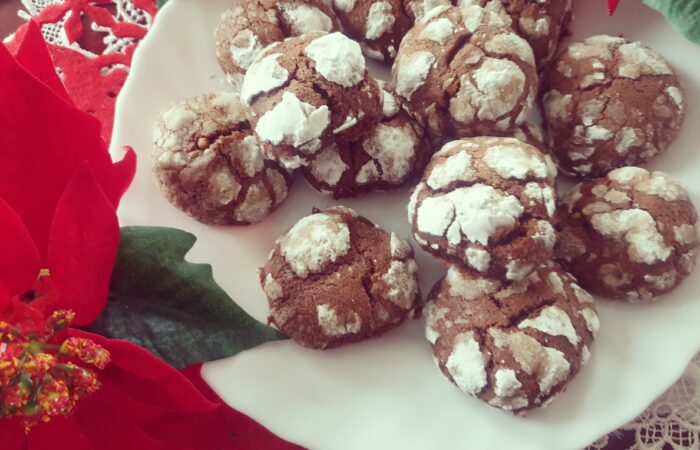 Składniki:
Popękane ciasteczka czekoladowe
1 czekolada mleczna
100 g masła
3 jajka
270 g mąki pszennej
1/2 szklanki cukru
1 łyżeczka proszku do pieczenia
3 łyżki cukru pudru do obtoczenia ciastek
Popękane ciasteczka czekoladowe
Święta tuż tuż, więc to ostatnia okazja żeby zrobić te rewelacyjne ciasteczka. Nie wymagają dużego nakładu pracy, a smakują wybornie. Smak można porównać do brownie. To co, zaczynamy?
Wykonanie:
Rozpuszczamy masło w rondelku. Czekoladę łamiemy na kawałki, wrzucamy do gorącego masła. Mieszamy łyżeczką aż powstanie gęsta masa czekoladowa. Żółtka oddzielamy od białek. Białka ubijamy na sztywno z cukrem, dodajemy żółtka, miksujemy. Do masy jajecznej wlewamy ostudzoną masę czekoladową, następnie mąkę, i proszek do pieczenia. Miksujemy aż powstanie bardzo gęste ciasto. Wkładamy do lodówki na kilka godzin lub do zamrażarki na minimum 2h. Zimne ciasto nakładamy łyżeczką, formujemy w rękach kulki. Nasze małe kuleczki obtaczamy w cukrze pudrze. Ciasteczka układamy równomiernie w dużych odstępach na papierze do pieczenia. Pieczemy w temperaturze 180 stopni przez 12-15 min.