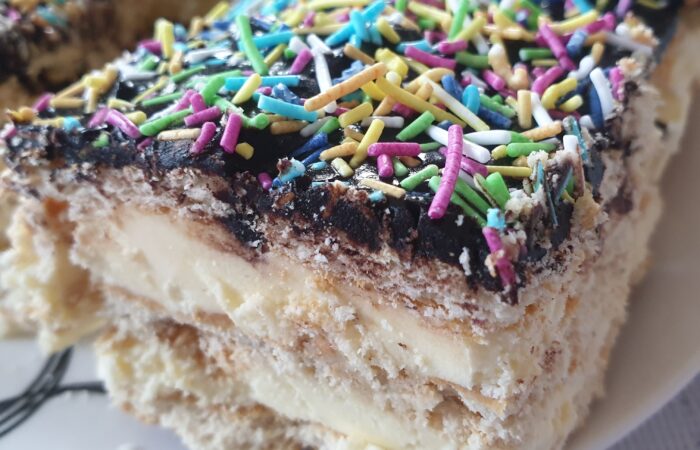 Składniki:
Składniki na ciasto
300 g herbatników kakaowych
150 g herbatników maślanych
400 g mleka w proszku
200 g masła
220 ml mleka 3,2%
ziarna wanilii lub ekstrakt
Polewa czekoladowa
50 g masła
4 łyżki mleka
4-5 łyżek cukru pudru
4 łyżki kakao
100 g czekolady deserowej
Milky way bez pieczenia
Milky way to kolejne ciasto, które nie wymaga pieczenia jak również wiele pracy. Zrobicie go w 15 min! Ciasto stworzone jest z herbatników, masy z mleka w proszku i polewy czekoladowej. Ta kompozycja tworzy przepyszne ciasto! Polecam!
Wykonanie:
Ciasto:
Mleko gotujemy z wanilią oraz cukrem pudrem. Miękkie masło ucieramy, wlewamy lekko przestudzone mleko, a następnie wsypujemy mleko w proszku – miksujemy. Na spodzie blach układamy warstwę herbatników kakaowych, przykrywamy polową kremu i herbatnikami zwykłymi. Na to reszta kremu i herbatniki kakaowe – lekko dociskamy.
Polewa czekoladowa
Wszystkie składniki oprócz czekolady gotujemy razem ( na gładki krem), lekko studzimy, polewamy. Na wierzch (taki ciepły!) ścieramy mleczną czekoladę (opcjonalnie). Ostawiamy na noc do przegryzienia.
Smacznego!