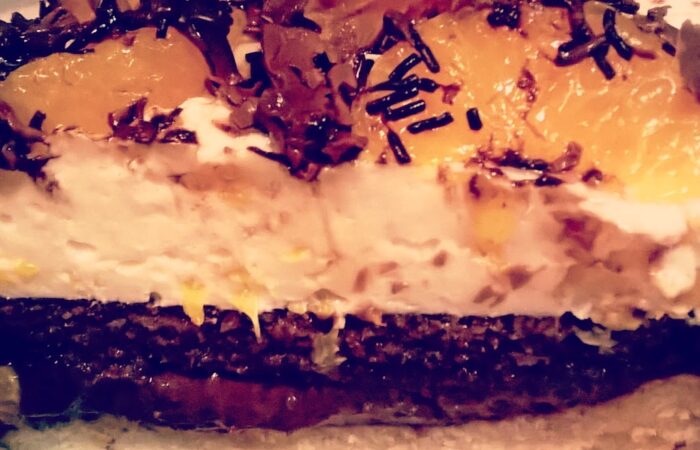 Składniki:
Biszkopt ciemny
4 jajka
6 łyżek cukru
1 czubata cukru z wanilią
1/4 łyżeczki proszku do pieczenia
1 łyżka kakao (z górką)
3 czubate łyżki mąki pszennej
szczypta soli
Biszkopt jasny
4 jajka
4 czubate łyżki mąki pszennej
4 czubate łyżki cukru
1 czubata łyżeczka cukru z wanilią
1/4 łyżeczki proszku do pieczenia
szczypta soli do białek
Budyń kakaowy
2 budynie czekoladowe bez cukru (80 g)
1 łyżka kakao
3 kopiaste łyżki masła
3 szklanki mleka
6 łyżek cukru
Sernik mandarynkowy na zimno
600 g jogurtu naturalnego
2 galaretki pomarańczowe
cukier puder do smaku
Polewa czekoladowa
1 czekolada gorzka
1 łyżka masła
Dodatkowo
4 małe puszki mandarynek w zalewie po 400 g
Mandarynka w czekoladzie
Powoli wkraczamy w świąteczne klimaty, warto więc pomyśleć o ciastach, które podamy na świątecznym stole. Mam dla Was idealne ciasto, które nie jest przesadnie słodkie, wilgotne i głównym składnikiem są mandarynki, które są nieodłącznym elementem świąt Bożego Narodzenia. Ciasto nie jest bardzo pracochłonne, ale musimy poświęcić trochę czasu by złożyć je w całość. Komponuje się idealnie, a smakuje jeszcze lepiej. Polecam!
Wykonanie:
 1. Pieczemy biszkopty.
Jasny.
Białka ubijamy na sztywno z dodatkiem szczypty soli, wsypujemy cukier waniliowy oraz kryształ, miksujemy na gładką bezę, przez około 2 minuty, potem dodajemy żółtka, krótko miksujemy, następnie mąkę wymieszaną z proszkiem do pieczenia, miksujemy na średnich obrotach miksera do połączenia składników, ale nie dłużej.
Prostokątną foremkę o wymiarach 25×35 cm wykładamy papierem do pieczenia, wylewamy ciasto, wyrównujemy powierzchnię.
Piekarnik nagrzewamy do 180 stopni, wkładamy biszkopt, pieczemy około 22 – 25 minut, do suchego patyczka (funkcja grzania góra – dół, bez termoobiegu, na środkowym poziomie).
Biszkopt studzimy.
Ciemny.
Biszkopt ciemny pieczemy dokładnie tak samo, z tym, że razem z mąką, proszkiem do pieczenia wsypujemy ciemne kakao i wszystkie czynności powtarzamy.
Biszkopt ciemny również studzimy.
Czekoladowy budyń
2. Blaszkę wykładamy jednym z papierów, na którym piekły się biszkopty, na przykład tym, na który piekł się jasny, na papier wykładamy jasny biszkopt.
Pierwszą puszkę mandarynek osączamy z zalewy, zalewą nasączamy porządnie jasny spód, odkładamy na bok i bierzemy się za budyń.
2 szklanki mleka zagotowujemy z cukrem i masłem (często mieszamy by nie powstał na dnie osad i się nie przypaliło), do pozostałej wsypujemy proszek budyniowy i kakao, mieszamy dokładnie, możemy wspomóc się mikserem, będziemy mieć pewność, że kakao rozpuści się jak trzeba. Kiedy mleko się zagotuje wlewamy przygotowaną mieszankę i cały czas energicznie mieszając gotujemy budyń. Zestawiamy go z gazu, czekamy około 15 minut by lekko się przestudził, następnie wykładamy na nasączony jasny biszkopt i wyrównujemy powierzchnię.
Na wierzchu układamy mandarynki z zalewy (wszystkie) i przykrywamy ciemnym blatem delikatnie dociskając.
Masa serowa
3. Teraz otwieramy drugą puszkę mandarynek, owoce odkładamy na bok, zalewą obficie nasączamy ciemny biszkopt.
Ciasto wkładamy do lodówki na około godzinkę by budyń stężał.
W tym czasie obie galaretki rozpuszczamy w 250 ml gorącej wody, odstawiamy do ostygnięcia do temp. pokojowej.
Teraz również otwieramy trzecią i czwartą puszkę mandarynek, owoce odkładamy na bok. Zalewę można wypić, ewentualnie podgrzać i rozpuścić w niej galaretki (oczywiście uzupełniając wodą do uzyskania tych 250 ml).
Jogurty przekładamy do miski. Kiedy galaretka się ostudzi, jednym ruchem przelewamy ją do jogurtów i miksujemy na najwyższych obrotach do połączenia składników. 3/4 z odłożonych owoców wrzucamy do serniczka mandarynkowego i mieszamy delikatnie łyżką.
Składanie + polewa czekoladowa
4. Masę wstawiamy do lodówki i czekamy kiedy będzie miała konsystencję gęstego budyniu ( bądźmy uważni, bo jeśli mamy lodówkę nastawioną na duży chłód na początku może powoli gęstnieć, ale potem idzie to już bardzo szybko).
Kiedy masa będzie miała pożądaną konsystencję wykładamy ją na ciemny biszkopt i wyrównujemy powierzchnię, wkładamy do lodówki do całkowitego stężenia.
Kiedy to nastąpi resztę osączonych mandarynek układamy na wierzchu ciasta.
Czekoladę rozpuszczamy w kąpieli wodnej razem z masłem, lekko studzimy, wierzch ciasta polewamy z łyżki tworząc artystyczny czekoladowy nieład… 🙂
Smacznego!