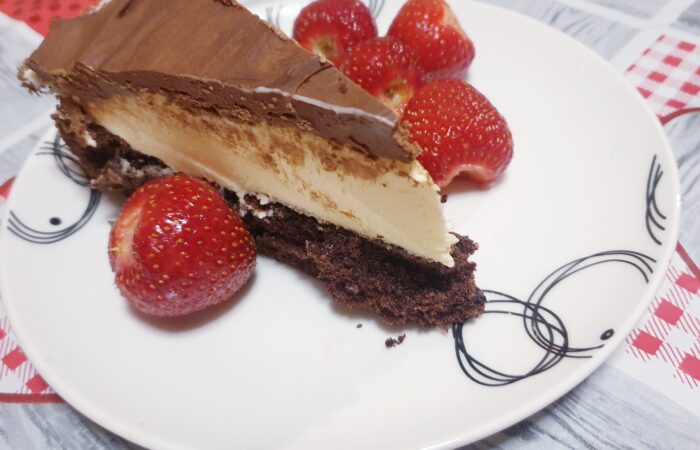 Składniki:
Biszkopt kakaowy
4 jajka
1/2 szklanki mąki pszennej tortowej
3 lekko czubate łyżki kakao
1/2 szklanki cukru
szczypta soli
Krem z mlekiem w proszku
1 kostka masła 250 g
pół szklanki mleka - 125 ml
2 szklanki mleka w proszku
1/2 szklanki cukru
szczypta soli
Krem czekoladowy z mascarpone
100 g gorzkiej czekolady
150 ml śmietanki kremówki 36%
250 g mascarpone
Ciasto Minotaur
Ciasto na ciemnym biszkopcie z pyszną masą z mleka w proszku i wykończeniem gorzkiej czekolady z mascarpone. Połączenie, które nie jest zbyt słodkie, ale całość komponuje się fenomenalnie! Nic skomplikowanego a możesz zaskoczyć swoich gości. Polecam jako dodatek sezonowe owoce.
Wykonanie:
Biszkopt kakaowy
W tym celu przygotować najpierw blaszkę (24×24 lub tortownicę) i wyłożyć jej dno papierem do pieczenia. Następnie białka jajek oddzielić od żółtek. Białka przełożyć do dużej misy, dodać szczyptę soli i ubić na sztywno. Następnie dodawać łyżka po łyżce drobny cukier do wypieków (robić to stopniowo, by cukier się rozpuścił). Gdy masa będzie już odpowiednio sztywna i błyszcząca należy rozpocząć dodawanie żółtek, również pojedynczo, miksując na wolnych obrotach do czasu aż żółtko zostanie wchłonięte przez masę. Wtedy dodać następne i znów krótko zmiksować. Na koniec wsypać do masy przesianą przez sitko mąkę pszenną tortową oraz kakao. Wszystko dokładnie wymieszać za pomocą drewnianej łyżki. Kolejno wylać ciasto biszkoptowe do blaszki wyłożonej papierem i wstaw do nagrzanego do 180 st C piekarnika. Piec całość przez ok. 15 minut (do tzw. suchego patyczka).
Krem z mleka w proszku
Do garnka wlać mleko, podgrzać i rozpuścić w nim cukier. Odstawić do ostudzenia. Następnie masło wraz ze szczyptą soli utrzeć na jasny, puszysty puch, uważając, by nie zwarzyć masła. Najlepiej robić to na najwyższych obrotach miksera, ale nie miksować zbyt długo. Wlać mleko, krótko zmiksować. Kolejno dodawać po 1 łyżce mleka w proszku i ciągle miksować, już na mniejszych obrotach i tylko do czasu połączenia się składników. Masa powinna wyjść gładka i jednolita. Tak przygotowany krem rozsmarować na ostudzonym biszkopcie. Wstawić do lodówki.
Krem czekoladowy z mascarpone
Gorzką czekoladę pokruszyć na mniejsze kawałki, zalać śmietanką i podgrzewać na małym ogniu, cały czas mieszając. Podgrzewać do czasu połączenia się składników. Odstawić do ostudzenia. Ubić śmietankę z czekoladą na puszystą masę. Kolejno serek mascarpone krótko zmiksować, by był mniej zbity, a następnie dodawać go po łyżce do masy czekoladowej ciągle miksując. Tutaj również powinien powstać gładki, puszysty krem. Wyjąć ciasto z lodówki. Tak przygotowanym kremem czekoladowym wyłożyć wierzch ciasta i wstawić do lodówki na kilka godzin, a najlepiej na całą noc. Smacznego!