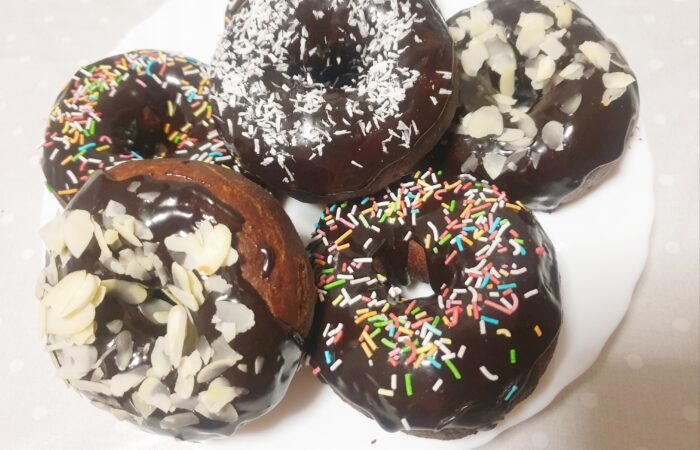 Składniki:
Rozczyn
40 g świeżych drożdży
100 ml mleka
2 łyżki cukru
2 łyżki mąki pszennej
Ciasto
60g cukru
20 g cukru waniliowego
6 żółtek
100 g roztopionego masła
500 g mąki pszennej + do podsypania
150 ml mleka
2 łyżki czystej wódki
Dodatkowo
Polewa czekoladowa (opcjonalnie)
1 jajko
3 łyżki cukru
2 łyżki kako
125 g margaryny (roztopionej)
Donuts
Donut to rodzaj smażonego na głębokim tłuszczu pączka, który różni się od tego polskiego brakiem nadzienia i charakterystyczną dziurką pośrodku. Ciastko polewane jest dużą ilością lukru, karmelu lub czekolady i ozdabiane różnokolorowymi posypkami. Ostatki to czas przypadający na koniec karnawału, tuż przed rozpoczęciem Wielkiego Postu. I choć Tłusty czwartek już minął zachęcam Was do wykonania przepisu na amerykańskie donutsy jeszcze w tym roku. Polecam!
Wykonanie:
Rozczyn
Do miseczki kruszymy świeże drożdże (40g), dodajemy cukier (2 łyżki), letnie mleko (100 ml) oraz mąkę pszenną (2 łyżki). Mieszamy dokładnie i odstawiamy na 10 minut do wyrośnięcia. Rozczyn powinien przynajmniej podwoić swoją objętość.
Ciasto
Masło (100g) rozpuszczamy na małym ogniu i odstawiamy do przestygnięcia. Do misy miksera dodajemy 6 żółtek, cukier (60g) i cukier wanilinowy (20g). Ucieramy na wysokich obrotach miksera przez 2-3 minuty do powstania puszystej, jasnej masy. Następnie do ubitych jajek dodajemy mąkę (500g), rozpuszczone i przestygnięte masło, rozczyn, letnie mleko (150 ml) oraz spirytus (2 łyżki). Wyrabiamy gładkie ciasto. Odstawiamy w ciepłe miejsce na minimum godzinę czasu. Przykrywamy ściereczką. Dobrze wyrobione ciasto powinno być bardzo lekkie i puchate (nie klejące się do rąk).
Po tym czasie ciasto powinno przynajmniej dwa razy zwiększyć objętość. Dzielimy je nożem na równe części (ok. 70g każda). Każdą część ciasta "kulamy" dłońmi formując z niego idealną kulkę. Na środku kulki robimy kciukiem dziurkę. Następnie przeciskamy przez nią po kolei wszystkie palce tworząc nieco większą dziurkę starając się porozciągać równomiernie ciasto. Przykrywamy ściereczką na ok. 20 minut, aby jeszcze podrosły. W tym czasie kulki powinny się napuszyć. Smażymy oponki z obu stron na złoty kolor. Długość jego smażenia zależy od wielkości donatów. Wykładamy na ręcznik papierowy. Gdy przestygną polewamy je polewą czekoladową.
Polewa czekoladowa
Jajko ubij z cukrem na puszystą masę. Dodaj kakao, a następnie ciepły, roztopiony tłuszcz. Polewa powinna być gęsta i lśniąca. Tak przygotowaną polewą udekoruj pączki.
Przepis: https://poprostupycha.com.pl/przepis/donuts-paczki-amerykanskie/