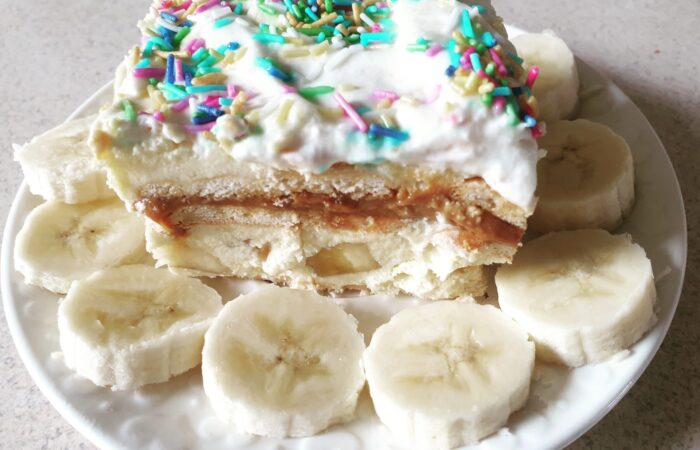 Składniki:
Masa budyniowa
500 ml mleka
3 żółtka
1 jajko
140 g cukru
3 łyżki mąki pszennej
1,5 łyżki mąki ziemniaczanej
1 opakowanie cukru waniliowego
300 g miękkiego masła
Masa śmietanowa
400 ml dobrze schłodzonej śmietanki kremówki 30%
1 łyżka cukru pudru
1 i 1/2 łyżeczki żelatyny (można pominąć)
Dodatkowo
400 g herbatników (duża paczka)
1 puszka kajmaku
4 banany
sok z połowy cytryny
Ciasto Banatoffee bez pieczenia
Ciasto Banatoffee to bardzo proste i pyszne ciasto na każdą okazję. Gwarantuję każdemu sukces, jeśli tylko zdecydujecie się go zrobić. Jest to dość słodka propozycja, ale myślę, że Wam zasmakuje.
Wykonanie:
Masa budyniowa
Cukier ucieramy z jajkiem i żółtkami, dodajemy pół szklanki mleka, dodajemy mąkę pszenną i ziemniaczaną ucieramy, aby nie było grudek. Pozostałe mleko zagotowujemy z wanilią, do gotującego się mleka wlewamy naszą masę jajeczną szybko mieszamy aż zgęstnieje i zacznie bulgotać, wyłączamy. Zostawiamy do wystudzenia. Ucieramy miękkie masło na na puszystą masę i dodajemy po łyżce wystudzony budyń. Ucieramy na gładki krem.
Blaszkę wykładamy papierem do pieczenia. Na spodzie układamy herbatniki na to cieniuteńka warstwa kremu i gęsto układamy pokrojone w paski i wymieszane z sokiem z cytryny banany. Na banany nakładamy znowu krem, aby przykryć banany, nie za dużo. Wyrównujemy i układamy kolejną warstwę herbatników. Większą część kajmaku wykładamy na herbatniki, wyrównujemy. Na to kolejna warstwa herbatników, rozsmarowujemy resztę kremu budyniowego, i znowu układamy herbatniki.
Do szklanki wsypujemy żelatynę , zalewamy kilkoma łyżkami wody i pozostawiamy do napęcznienia, jak napęcznieje to władamy do mikrofali na 20-25 sekund żeby się rozpuściła (możecie zupełnie pominąć żelatynę i dodać śmietan fix – masa będzie stabilna).
Masa śmietanowa
Ubijamy śmietankę z cukrem na sztywno. Do lekko wystudzonej żelatyny dodajemy łyżkę ubitej śmietanki, mieszamy i tak zaprawioną przelewamy do reszty ubitej śmietany. Masę śmietanową przekładamy do rękawa cukierniczego i dekorujemy wierzch ciasta. Jeśli nie chcecie się z tym bawić to możecie ją wygładzić na wierzchu nożem. Ciacho schładzamy w lodówce najlepiej cała noc. Przed podaniem udekorować.
Smacznego!